Creative options to fix the Angels bullpen
It's no secret that the Angels glaring weakness for over three years now has been the bullpen. With the exception of Scott Downs, it seemingly doesn't matter who Los Angeles plugs into which spot, they will ultimately fail in whatever role. The problem seems to be isolated within the confines of Angel Stadium and the Angels 25-man roster. Pitchers are great in the unforgiving environments of the PCL (AAA baseball), but as soon as they're promoted to a pitcher friendly park, they seem to forget how to pitch. It even occurs with other teams as well. Fernando Rodney used to cough up every lead with his assortment of pitches that landed anywhere from six inches to six feet out of the strike zone. Now he's with Tampa Bay and is a dependable closer. Even our golden boy with an all-star selection and triple digit fastball Jordan Walden couldn't hold onto his spot in the pen. Experts and fans alike have searched for the common denominator and often this blame falls squarely upon the shoulders of Mike Scioscia. Granted, he has no idea how to use a bullpen, but frankly I'm beginning to question Mike Butcher's ability to instruct a pitcher. However, at the end of the day good pitching is good pitching, regardless of environment and situation. So while arm-chair GM's everywhere concoct the most unlikely of trades, I figure it's time to join in the parade. But I won't be searching the trade market, I'd like to see these issues corrected internally.
Option 1: Demote Kevin Jepsen and promote Brad Mills.
I understand this runs counterintuitive for most baseball minds. Jepsen fits the bill of a reliever to the "T". He's right handed, throws hard, has erratic command and a wipeout breaking ball while Mills is a soft-tossing lefty that has no problem going over six innings when asked. But let's face it, Kevin Jepsen has been given every opportunity to succeed at the major league level and has failed miserably. Most teams would have cut him by now. Mills can generate ground balls and won't miss too many bats, but won't necessarily have to.
Option 2: Promote RHP Ryan Brasier.
Brasier is a hard throwing righty that much like Jepsen flamed out as a starter and has since taken to closing down ball games at the minor league level. His repertoire includes a 93 mph fastball and workable (yet not spectacular) breaking pitch. I don't expect him to completely shutdown the opposition without adding a cutter, but he remains unblemished in eight appearances for Salt Lake so far and posted a 2.92 ERA with a K per inning last season.
Option 3: Promote RHP Steven Geltz.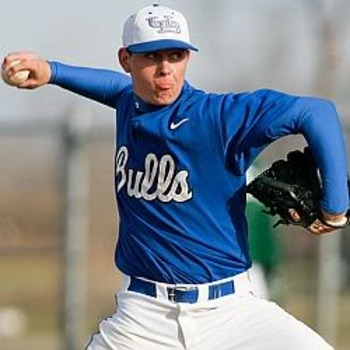 Geltz is a small statured flame-thrower that has been unfairly kept from promotion so far. He was previously suspended for 50 games because he popped positive for a NON-performance enhancing drug. I don't care if Geltz is a pothead and neither does anyone else that Tim Lincecum is. The fact remains that the Angels bullpen is terrible and this kid could help fix it. Armed with a low to mid 90's fastball with movement, Geltz has posted video game type of strikeout totals in the minors so far (career k/9 is 12.5, WHIP is 1.17). I don't see how keeping him in AA for the rest of his life helps him learn his lesson for stupidly huffing some ganja.
Option 4: Promote Jeremy Berg.
If you discount 2011 as a lost year, Jeremy Berg has been absolutely untouchable in the minors. The soft-tossing submariner could certainly fill a "Darren O'Day" type of role and help bail the Angels out of some of these late inning jams. He's been impressive in AAA this season and owns a career ERA under three in the minor leagues.
Option 5: Promote Dakota Robinson.
Another reliever that doesn't have stuff that jumps off the page, but this lefty is perfect through nine innings in A+/AA so far. Anaheim is a quite a leap, but desperate times call for desperate measures.
Option 6: Promote Garrett Richards.
Personally, I think he deserves to be the 5th starter and Jerome Williams can help stabilize the pen. I know Williams has earned his shot at the rotation but the fact of the matter is, Richards has never been THIS good before. His curve is working again, he's striking hitters out with his slider. He's throwing his change up for a strike and his fastball is sitting at 95 mph. He's got front of the rotation stuff and I'm confident Williams would emerge as a very good 7th inning option.
Option 7: Transition Ariel Pena to the bullpen and promote him.
Pena has been dominant whenever he keeps the ball in the zone in AA. Armed with a mid to high-90's fastball and Ervin Santana type of slider, I don't think he'd need much time. He could probably compete for the closer role by next season. I know it's not the best option to take a good starter and make him a reliever, but at this point if he could shut down the opposition in the late innings, he's transition would what is best for the team.
Really there's no wrong answer here. The Angels have lots of options and should be trying out each one of them in an effort to preserve leads. The panic button has been hit and it's time to get drastic. The only wrong move is to sit there and do nothing like they're doing right now.