Vernon Wells is going to be the Angels starting LF in 2011. Does anyone else feel like they already know how this is going to turn out? It's almost as if a nearly identical situation occurred just a few years ago right? Maybe your memory is a little hazy, let's go over it…..
The year was 2008. Tiger Woods was faithful to his wife, George W. Bush was president, Jose Canseco had not ruined twitter (yet), Manny Ramirez was a clean productive member of the Boston Red Sox, Tropic Thunder was going to be an excellent movie and we were all humming the island-sounding tune "I'm Yours" by Jason Mraz. It really was a simpler time. The year before, the Angels brought in an expensive outfielder to help balance out the middle of the order, his name was Gary Matthews Jr.
Matthews proved incapable of producing the offensive numbers he put up in his previous hitter-friendly environment, so the Angels came up with the brilliant idea of batting Gary 2nd, right in front of arguably the best hitter on the planet, Vlad Guerrero. Meanwhile, there was a young talented outfielder/first baseman named Kendry Morales that hid hit .341 in the high minors the year before.
Fans clamored for Morales' promotion but Mike Scioscia wouldn't budge. Gary Matthews Jr was the starting RF. He had the right skill set for the position. He was a highly paid veteran and deserved an opportunity to earn his contract. 2008 started off as expected, Matthews Jr hit .226 in April, followed by .211 in May. It seemed inevitable that Kendry Morales would be promoted soon enough, he was hitting .350 in AAA after all. June rolled around and by some miraculous
turn of events, Gary Matthews Jr managed to hit .299. Clearly, Mike Scioscia was right and Matthews needed to be the everyday RF and hit in the #2 spot in the order. Matthews' "non-crappy" month was enough to buy him the majority of the playing time for the remainder of the season. In the following two months, Gary would hit .156 and .212 respectively and finish the season with a .242 BA and .319 OBP. Meanwhile Kendry Morales continued to murder AAA pitching.
Fast-forward to the year 2012. Now let me know if you think you've heard a similar story before (possibly the previous paragraph). Vernon Wells is a highly paid OF that was brought in before the 2011 season to help support the middle of the Angels lineup. However, Wells proved incapable of reproducing the all-star caliber numbers he put up previously in his career when he played in a hitter-friendly stadium. But he's still going to be the starting LF for 2012.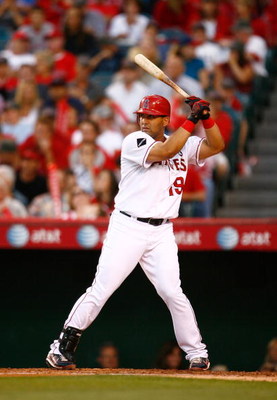 In fact, Mike Scioscia is even talking about batting Vernon Wells second in the lineup, right in front of arguably the best hitter on the planet Albert Pujols. Wells has the right skill set to succeed in the #2 spot in the lineup and should be given the opportunity to earn his contract. Meanwhile Mike Trout looks ticketed for high minors after absolutely torching the pitcher friendly Texas League last year. Trout's pounding on that door, but Mike Scioscia and company are going to make sure Vernon Wells starts.
I feel like we've been down this road before and it doesn't turn out all that great. Kendry went on to become one of the most productive hitters in the American League and even added an 'S' onto the end of his first name while Gary Matthews Jr would be traded the next season to the Mets. The Angels would end up eating all but 2 million dollars of his contract. So we can only assume that chances are Vernon Wells is going to be AWFUL this season, yet will remain the Angels starting LF. Meanwhile, Mike Trout will tear apart AAA. By next year, Mike Trout will be one of the most productive hitters in baseball and will change his name to Mikes Trout. Vernon Wells? He'll be traded to the New York Mets. The Angels will eat all but 3 million dollars of his contract. Progression.