A short word about David Courtney's passing and much more on the Angels' recent signings/trades and who just might be joining the team in a shocker.
I would like to start off this article with a word about David Courtney, the longtime Public Address Announcer for the Angels but also, the Los Angeles Kings and the Los Angeles Clippers. Growing up in Southern California as a fan of the Angels and Clippers and being a native of California (now in the rocky mountains of Colorado), I heard the man at nearly every sporting event that I went to from a very young age. I believe I can speak for everyone when I say that this is a substantial loss and he'll be dearly missed by an immeasurable amount of people. May he rest in peace and his family get through this very rough time. I'll miss him very much.
Onto the article at hand, the Los Angeles Angels of Anaheim have made a few substantial moves lately, highlighted by the trade of Jordan Walden to the Atlanta Braves for Tommy Hanson and the signing of Ryan Madson. Walden was the team's closer until the trade of Alexei Amarista to San Diego for Ernesto Frieri and from there; he wasn't a big part of the team's plans going forward. He's still young and I believe that as a part of a very solid Atlanta bullpen, he'll succeed and get it all together. For the Angels, they may be getting a hidden ace in Hanson. His velocity has dropped over the last few years but he's still quite the quality pitcher, with an ERA of 3.61 over his career and a WAR of 4.4 only two years ago in 2010, a high mark for a pitcher. Although Walden is a relief pitcher and Hanson is a starter, there are a lot of similarities between the two of them, when it comes to their careers. Each pitcher was more of a luxury to each team and I believe both the Angels and the Braves are coming away from this trade with a satisfied result and high hopes for each pitcher.
With the likely departure of Dan Haren and the trade of Ervin Santana to the Kansas City Royals, the Angels needed to pick up another starter. The focus for the front office (and the fans) has been the needed upgrade of the bullpen but the team was going to need a few new players to take the ball every five days, even more so if you believe the rumors that Zack Greinke is going to be too expensive for the team to resign. Hanson is a "low risk, high reward" type of pitcher and even if he doesn't work out, there's still a bounty of other options including rookie Nick Maronde. I'm personally a big fan of Maronde's stuff and even if Hanson excels, expect him to be in the starting rotation for the Angels this season, possibly even for the majority of it.
Hanson is a very cheap option and shouldn't take up any of the money that could be thrown towards keeping Greinke or possibly heading in another direction. For those who don't know much about the newest starting pitcher for the Angels, Hanson comes to California as a player who has fought injuries and various little kinks in his game but as a player who once was actually the highest rated player in the entire farm system of Atlanta. The Braves simply have too many good choices to have in their rotation and he was expendable. Keep in mind that Hanson is only 26 as well and it's rather hard to not look at the bright side of this deal.
Hanson throws four types of pitches, the changeup, a slider, a curveball, a fastball and rarely, a changeup. His K/9 ratio should be around 8.75 to 9.00 and if healthy, he could be a 15+ game winner with the lineup that the Angels are projected to have and the defense he'll have behind him. Expect to see Hanson in the 3rd or 4th spot in the rotation, most likely the 3rd. Personally; I only have two questions about Hanson and his arrival to the Angels, which is the question of his health and the move from the National League to the American League. Don't be surprised if there's a slight transition period for the young pitcher but do know, he could end up being a big part of the Angels' success in 2013.
On the other side of risks and age comes the 32 year old relief pitcher Ryan Madson. Madson signed before last season with the Cincinnati Reds but due to an injury, he was out for the entire season. Looking to bounce back and reclaim the dominance he had when he was the closer for the Philadelphia Phillies and before that, one of the best relief pitchers in the game while setting up for Brad Lidge. He was a part of Philadelphia's World Series winning team in 2008 and he's come through in some very tense situations so he's exactly what you want in a closer, someone who has "been there". Unfortunately, he's coming off Tommy John Surgery and that's never a good thing. Before the end of Spring Training last season, Madson tore a ligament in his pitching elbow and as they say, that was "all she wrote" for the closer.
Still, like Hanson, this is a "low risk, high reward" type of signing. The Angels signed Madson to an incentive laden one year contract and thankfully, most of the money that Madson could make is due to performance and the amount of time that he's healthy. If he can get back to his former self (something that is definitely not out of the question), the Angels could use Frieri and Scott Downs to give him the ball with a lead in the 9th inning. Ask most Angels fans on if there was any certain part of the team that caused its downfall in 2012 and the wide majority would say it was the bullpen and their performance. Having Madson healthy and performing the closer duties simply shores up the bullpen in a huge way.
If you're looking for other players that the Angels could possibly pick up as well, look below at some "out of the box" ideas that may surprise you, either when you start to entertain the thought of them being a Halo or hopefully, when the team signs them to a contract. Keep in mind that these are players who are not projected to head to Anaheim but the team might be wise to "kick the tires" on.
Kevin Youkilis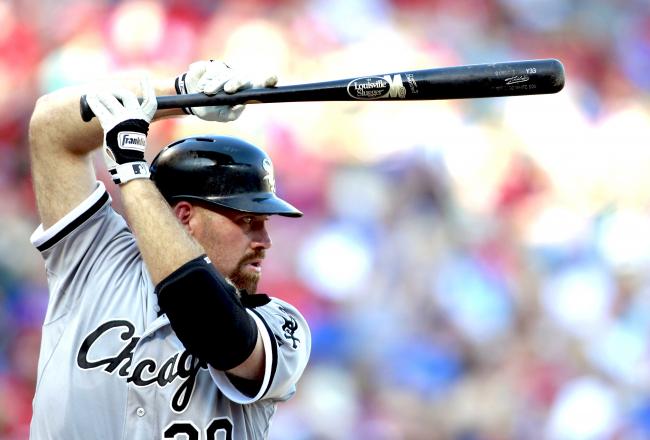 A name that seems to have been forgotten, he's an option here, although a long shot. Don't get me wrong, I'm a fan of Alberto Callaspo but for a team that has such significant talent at nearly every position; it could also use an everyday player who knows a thing or two about winning championships. Sure, there's Albert Pujols but wouldn't you want another veteran who is no easy out and could possibly be had for cheap?
Mike Napoli
Yeah, I know, just hear me out here. Seriously, stop throwing the tomatoes and just listen/read. Napoli seems like the kind of guy who just wants his money so he can do his thing. He's not coming off a great season and god knows what kind of reaction he would get if he was to be back in Anaheim but as a whole, if you can get past the issues that he has with Mike Scioscia and the fans, one would be wise to consider him. Aside from a rather weak season, he could be an immensely valuable bat in the lineup and his backup, Chris Iannetta, is no Jeff Mathis. Besides, wouldn't you want to sign him just so he doesn't destroy the team like he has on the Rangers for the last few years?
Jason Grilli
Although he wouldn't be the flashiest choice, the Angels would be well served to try to "fool proof" their bullpen. Grilli isn't getting any younger but he did have a fantastic K/9 ratio in 2012 (13.8) and he could probably be signed for a reasonable price and a one or two year contract. He's a smart guy and would be a valuable asset near the end of games.
Brandon McCarthy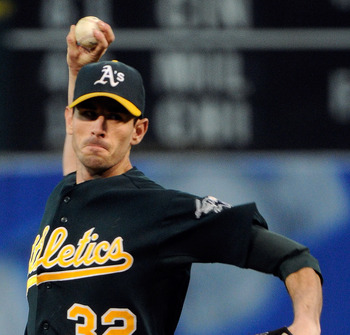 Think of a baseball player and there are a few qualities that you're likely to think of first. Speed, power, patience, grace, all great qualities in a player but there's one quality that makes McCarthy an endlessly interesting and thought provoking player and that is intelligence. McCarthy's story has been all around baseball, where he looked into sabermetrics and other places to improve his play. It's worked for him and although he went through a horrific injury this last season, he should be ready to go in 2013. One part of me would like to see him stay in Oakland, the fans really rallied behind him and they treated him extremely well. An even bigger part of me would like to see McCarthy stay in California, come to the Angels and bring some intrigue to the team. It's a move that I would be ecstatic to see.
Torii Hunter
Oh, well, never mind.