First, let me preface this article by asking the question, why is Jerry Dipoto the Angels General Manager? Why isn't Tony Reagins the General Manager? Simple enough question with a wide range of theoretical answers but when we break it down, the general answer can be simplified to "we needed to go in another direction". I know that's the company line but it's true, and I believe that that general direction is a nice way of saying we needed to do business smarter. In essence, Jerry Dipoto's vision for the direction of this organization is to create a balanced team built for long-term success. And what's the greatest threat to that long-term success? The trade deadline and free agency.
These are murky, shark-infested waters that every team must pass through. But if you know how to navigate and are familiar enough with the area, your team should sail through just fine. Jerry Dipoto knows how to navigate, and to a certain extent I believe I have general conceptual knowledge of this direction. Rewind back to 2010. Jerry Dipoto was the interim General Manager of the Arizona Diamnondbacks. He made a trade with Tony Reagins, then the Angels GM. Jerry Dipoto sent serviceable ace/#2 starter Dan Haren to the Angels for a package of Joe Saunders, Rafael Rodriguez, Pat Corbin and Tyler Skaggs. Dipoto was ripped by the media for not accepting the Yankees offer, which included Jesus Montero. Why did he accept Reagins' offer?
Simple, Jerry Dipoto was rebuilding the Diamondbacks into an organization with sustainable long-term success. In Joe Saunders he received a mid/back of the rotation starter that was inexpensive and under team control for two and half additional years. In Rafael Rodriguez he received a power right-handed arm that he was willing to take a chance on. In Pat Corbin he received a quick climbing southpaw that projected into the middle of the rotation and would be inexpensive and under team control for six. He got the same in Tyler Skaggs, except Skaggs projects into the front of the rotation. In short, if the D-Backs played their cards right in the draft (and they have), they probably wouldn't have to worry about pitching for the next decade. That was a smart move.
In contrast, Tony Reagins believed the Angels had enough long term pitching and needed more in the short term. This wasn't a bad idea, but he stretched it too far. He gave away talented LHP Alex Torres in the Scott Kazmir deal and gave away another three lefties for Dan Haren. Again, not a bad move for either side, but dealing young LHP prospects is a risky venture that Reagins took too far. Then he was desperate and tried to save his job by trading away Mike Napoli and Juan Rivera for Vernon Wells. I'm not saying this was a bad trade, because he had the right idea, just the wrong target.
So what's my move, what would I do given the current state of the Angels? Do I think the Angels need to stand pat? Do they go all in? What can they afford to give away? Well, to answer these, let me first start by saying, I believe in moderation and options. There are a lot of things the Angels can do that may be a good idea, but only to a certain extent. Do the Angels need a starting pitcher? Yes, they do. I'm confident in Weaver, Wilson, Haren, Richards and Williams. But I'd also like to have the option of using Richards or Williams, rather than being forced to. You could even say the same for Santana. This doesn't mean the Angels need to go all out on Zack Grienke, Matt Garza, James Shields or Josh Johnson, though those are all fine pitchers. I've brought up Joe Saunders before and I think that's the right type of player to target. The D-Backs should be selling, the Angels can't afford to inflate payroll any higher, Saunders is familiar with the AL, familiar with the stadium, the fans and familiar with the players and management. In essence, Joe Saunders is moderation. He can probably be re-signed for cheap once the season is over or he can walk and the Angels wouldn't be incredibly hurt.
This move gives the Angels Weaver, Wilson, Haren and Saunders, four guys you can count on. For the final spot in the rotation and a spot in extended relief, the Angels have options between Santana, Williams and Richards. The same goes for the bullpen. I'm confident in the abilities of Downs, Frieri, Walden, Jepsen, Hawkins, Izzy and Takahashi. But I'm also aware that one more arm, particularly a lefty couldn't hurt. That's where I think Joe Thatcher of the San Diego Padres comes in. He's a great reliever, but particularly effective on lefties. The Padres are in rebuilding move and Dipoto is familiar with their staff. Most importantly however, is that Joe Thatcher provides a long-term solution for the Angels. He won't be a free agent until 2015. The Angels don't have any effective lefty relievers in their minors. Thatcher won't come cheap though, as he shouldn't, but this is one case where the Angels do need to splurge.
But what are these two lefties (Saunders and Thatcher) going to cost? For the Angels, I think a certain emphasis needs to be placed on operating a cost-controlled organization that can compete in the long-term and short-term. This means developing good young prospects and not trading them away to inflate payroll.
Currently, the Angels players/prospects with particular value are outfielders Peter Bourjos, Kole Calhoun, Travis Witherspoon and Randal Grichuk.
In terms of infielders they have third baseman Luis Jimenez, third baseman Kaleb Cowart, catcher Hank Conger, second baseman Taylor Lindsey, shortstop Jean Segura and first baseman C.J. Cron. In pitching, they have Ariel Pena, John Hellweg, A.J. Schugel and Nick Maronde.
The prospects/player that aren't available include Bourjos, Calhoun, Cowart, Cron, Segura, Pena and Maronde.
The list of prospects/players that are available in the right deal are C Conger, 3B Jimenez, 2B Lindsey, OF Witherspoon, OF Grichuk and pitcher Schugel and Hellweg.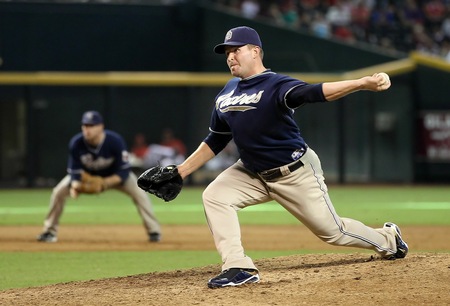 So operating within these parameters, which available prospects will leave for Saunders and Thatcher? The D-Backs are short on middle infield help, someone with Lindsey's upside should be enough to land Joe Saunders, whose name hasn't come up much in trade talks as he isn't flashy and is headed for free agency. For Joe Thatcher, the Padres will want pitching and will soon be needing a third baseman because it's becoming increasingly likely they'll trade Chase Headley. I believe that Luis Jimenez and John Hellweg should be enough to pry Thatcher away from the Padres.
So there you have it folks. The Angels pitching problems are solved, the payroll isn't uncontrollably high and all the elite prospects are still on the Angels. Long-term and short-term, the Angels are a better team, will be operating with greater fiscal flexibility and haven't parted ways with anything they absolutely cannot replace. I understand this was quite a bit for the average fan to read, but I believe it perfectly reflects what the Angels can and should do and my personal philosophy about the direction of the team.
You also may have noticed some random words spread out across this article that were in bold. These are the terms that best reflect my belief in running the Angels. Long-term, options, cost-controlled, and fiscal flexibility. Simply put, I believe the Angels have the talent to win right now. They need assistance as many teams do in free agency and at the trade deadline, but not at the cost of the future. But to take a page out of Master Yoda's book, "be mindful of the future, but not at the expense of the moment". I believe that planning for the long-term can be done by accumulating cost-controlled assets and at the same time putting a priority upon the present includes creating multiple options and constructing a team with fiscal flexibility.